News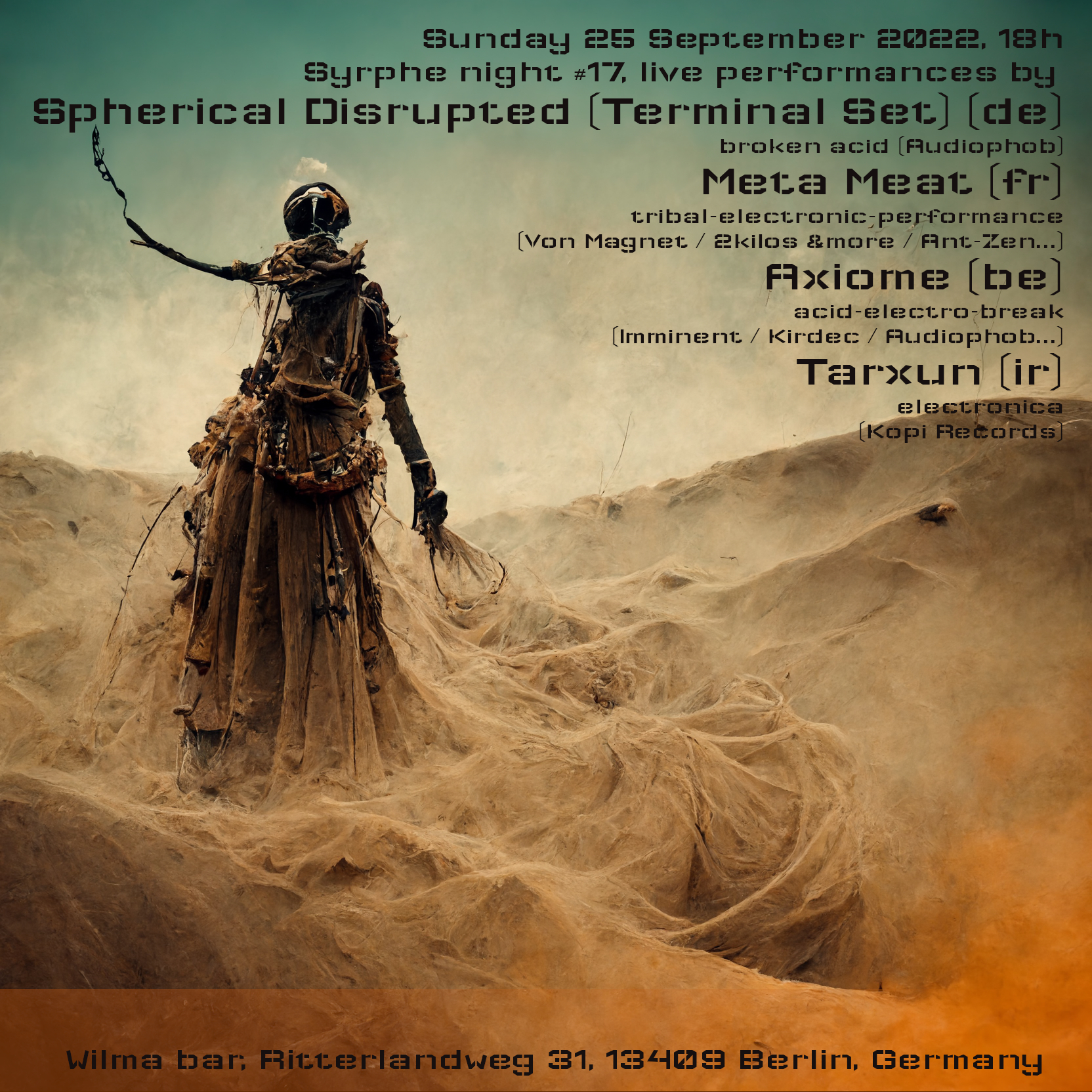 ♪ META MEAT (France) - tribal-electronic-performance -
Bandcamp
(Von Magnet / 2kilos &more / Ant-Zen...)
♪ AXIOME (Belgium) - acid-electro-break -
Bandcamp
(Imminent / Kirdec / Audiophob...) -
♪ TARXUN (Iran) - electronica (Kopi Records) -
Bandcamp
♪ SPHERICAL DISRUPTED (TERMINAL SET) (Germany) - broken acid (Audiophob) -
Bandcamp
-------------
Biographies
-------------
META MEAT (Ant-Zen) is a two-piece tribal electronic performance band.
Their concerts are described as intense, shamanic and ultra-percussive. A unique blend of ethnic and western influences using numerous percussion instruments (hand and foot percussion... the so-called zapateados), vocals and electronics. Both members come from the bands Von Magnet and 2kilos &More.
------
AXIOME (Audiophob) is a duo whose members emerged from the bands Imminent, Urawa, Delta Files, Kirdec, Alien Vegan Sect... For this collaboration they offer a consummate and danceable mix of Detroit electro, acid, breakbeat with industrial influences and vocals. Cedrik Fermont is also a tireless campaigner for the recognition and distribution (through his Syrphe label) of experimental/noise musicians from Africa, Asia, the Middle East.
------
TARXUN (ترخون) is Farshad Moshiri Xajehnassiri, an Iranian audiovisual artist, performer and designer based in Berlin.
His various compositions oscellent between broken beat electronica, ambient and sound poetry.
------
SPHERICAL DISRUPTED (TERMINAL SET) is the current main musical project of Mirko Hentrich. He produces electronic and experimental music since 1988 under various names and with various bands (e.g. Experimentum Crucis and Sick En For). Spherical Disrupted played live all over Germany and Europe, incl. some bigger festivals like Maschinenfest, Elektroanschlag, Schlagstrom festival and Summer Darkness, partially in collaboration with Kaos Interim and hidden technology. The sound of Spherical Disrupted could be described as a mixture between dark ambient and IDM including electronics, metal percussion and field recordings. Mirko Hentrich is also co-founder and owner of the ambient industrial label audiophob and is working under the name of Paradroid as a DJ for EBM and ambient music in several clubs and many festivals.