C-drík aka Kirdec aka Cedrik Fermont
Cedrik Fermont (aka C-drík, Kirdec, Cdrk) is a Berlin-based Belgian-Congolese composer, musician, mastering engineer, author, radio host (Radio Staalplaat, 88vier/Colaboradio and Boxout.fm), concert organiser, independent researcher and label manager (at Syrphe) who operates in the field of noise, electronic and experimental music since 1989.
His compositions and installations vary from sound art and electroacoustic to noise, to industrial to more conventional "dance" music such as electronica or acid and so on ; solo and in collaborative projects (as Axiome, Tasjiil Moujahed, Ambre, with Marie Takahashi, Luong Hue Trinh, Yan Jun, Mick Harris, Dora Bleu, Periklis Tsoukalas, Mark Spybey, Gülce Özen Gürkan, Dickson Dee and many more artists).
In 2017 he released together with Dimitri della Faille the book Not Your World Music about noise music in South-East Asia, winner of the 2017 "Golden Nica" Prix Ars Electronica in the "Digital Musics & Sound Art" category. In 2005, his soundtrack for the experimental film Atalodz directed by Gisèle Pape won the best prize at Côté Court festival, Paris/Montreuil, France.
He composes music for sound installations, theatre and choreographies, including collaborations with Robyn Orlin, Guangdong Modern Dance Company (GMDC), Dao Anh Khanh, Sylvie Ronflette, Jian-Jen Lin, etc.
His tours and ongoing research lead him to perform and give talks in over 60 countries in Eurasia, Africa and the Americas.
Next concerts and talks Here.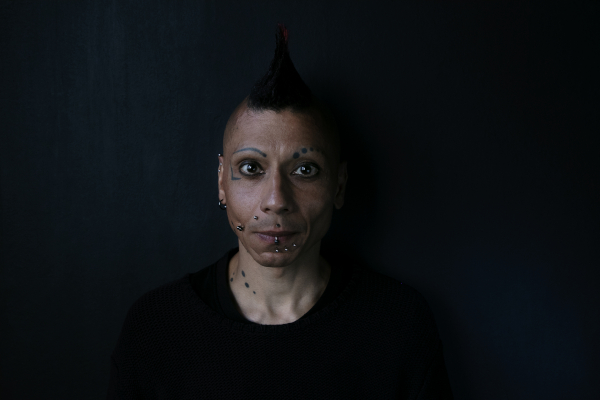 Photo by Magda Bondos.
Writings
A Radical Story of Noise Music from Indonesia (Dimitri della Faille and Cedrik Fermont), in Sounding Out the State of Indonesian Music edited by Andrew McGraw and Christopher J. Miller (Cornell University Press, 2022).
Towards a decolonisation of a history of electronic music, in 20Seconds paper magazine, 2021.
Sound Art in East and Southeast Asia. Historical and Political Considerations (with Dimitri della Faille), in The Bloomsburry Handbook Of Sound Art, edited by Sanne Krogh Groth & Holger Schulze (Bloomsburry, 2020)
Not Your World Music: Noise In South East Asia, book written and edited together with Dimitri della Faille (2016), published by Syrphe (Europe) and Hushush (Americas), find out all details about the project here (you can download a free PDF version of the book or buy the paper version and or the compilation CD). Winner of the 2017 Golden Nica - Prix Ars Electronica in the Digital Musics & Sound Art category.
Power through networking: Reshaping the underground electronic and experimental music scenes in East and Southeast Asia (2015-2016), in New Geographies, CTM 2016.
An introduction to electroacoustic, noise and experimental music in Asia and Africa (Uvod v elktrokustično, noise in eksperimentalno glasbo Azie in Afrike) (2014-2015), published by Kibla (Slovenia) in the magazine Folio 5-6.
A singularity of noise music in Africa and Asia (2010) ( Une singularité au sein de la musique noise d'Afrique et d'Asie), published by Les presses du réels (Belgium) in the book Le performentiel noise, Edited by Sébastien Biset.
Almost full discography at Discogs and other links (solo and bands/collaborations) :
Active projects : C-drík/Cedrik Fermont | Kirdec | Axiome | Alien Vegan Sect | Tasjiil Moujahed | Ambre | Cedrik Fermont + Marie Takahashi | Roberta Maddalena, Elisabetta Lanfredini, C-drík | Salims Salon
Inactive projects : Dead Holywood Stars | Moonsanto | Logatomistes | Črno Klank | Ammo | xhm² | Elekore | 9E Phalanx | The Klank Of Črno Migs | Tetra Plok | Xøn. xêkhäl | M.E.3 | Globuleux
Other projects : Audio mastering | Radio Staalplaat | Syrphe at Colaboradio / Freie Radios - Berlin Brandenburg (electronic and experimental music from Asia, Africa and Latin America) | Syrphe at Boxout.fm | DJ | Concert organisation (mostly in Berlin) | Syrphe magazine 杂志
Prizes :
Not Your World Music: Moise In South East Asia (Dimitri della Faille & Cedrik Fermont), 2017 Golden Nica - Prix Ars Electronica in the Digital Musics & Sound Art category.
Best soundtrack for the experimental film Atalodz directed by Gisèle pape (Côté Court 2005, Paris/Montreuil, France), you can watch the film on Vimeo.
Audio (present)
Electroacoustic
Dark ambient
Noise
Field recordings
Electro
Acid
Electronica
Post-folk
Industrial
Improvised music
Audio (past - to come soon)
This is where I played and occasionally gave some talks, lectures, workshops (zoom in for more details).
Performances in Africa (Algeria, Egypt, eSwatini, Kenya, Morocco, South Africa, Tunisia, Uganda), the Middle East (Kurdistan/Iraq, Lebanon, Turkey), Asia (Bangladesh, Cambodia, China, Hong Kong, India, Indonesia, Japan, Laos, Macao, Malaysia, Myanmar, the Philippines, Singapore, South Korea, Taiwan, Thailand, Vietnam), North America (Canada, USA), Europe (Albania, Austria, Belgium, Bosnia And Herzegovina, Bulgaria, Czechia, Croatia, Denmark, Estonia, Finland, France, Germany, Greece, Hungary, Italy, Kosovo, Latvia, Lithuania, Luxembourg, the Netherlands, North Macedonia, Poland, Portugal, Romania, Serbia, Slovakia, Slovenia, Spain, Sweden, Switzerland, UK).
Performances and talks at festivals : 21. Biennale Aktuelle Musik in Bremen (Germany), Underground Institute Festival (Germany), Chthonic Festival (UK), Borderline Festival (Greece), unsafeandsounds (Austria) Simultan Festival (Romania), Nyege Nyege (Uganda), Đáo Xuân Chín (Vietnam), CTM (Germany), Computer Space Festival (Bulgaria), Seanaps Festival (Germany) Archipiélago Festival (Spain), Mikromusik (Germany), Ferien Kurse (Germany), SPOR Festival (Denmark), Space21 Festival (Kurdistan/Iraq), Irtijal (Lebanon), WSK Festival of The Recently Possible (Philippines), Maerz Musik (Germany), Rainy Days (Luxembourg), Digging the Global South – Future Sounds from Africa (Germany), G((o))ng Tomorrow (Denmark), Geiger (Sweden), Ars Electronica (Austria), RVLT (Netherlands), KLEX (Malaysia), Speigas Festival (Lithuania), Primal Uproar (Germany), Bruital Furore (Germany), Multiversal (Germany), Fœtus Frolics Festival (Germany), Wave-Gotik Treffen (Germany), Maschinenfest (Germany), Schlagstrom (Germany), Hanoi Sound Stuff (Vietnam), The Bridge Of Sound (Vietnam), Lacking Sound festival (Taiwan), Dour Festival (Belgium), Kill The Silence (Honk Kong), Experimental Music (Myanmar), Noxious Arts (France), Pulsation Sonore (Algeria), Kiblix (Slovenia), Zasavje Noisefest International 2015 (Slovenia), Electroacoustic Music Festival (Austria), ZXZW (now Incubate) (Netherlands), Baltā Nakts (Latvia), Electron (Switzerland) Zoro Festival (Germany), etc. and has been selected to perform and / or give some workshops in the following European capital of culture : Brussels 2000 (Belgium), Maribor 2012 (Slovenia), Marseille en Provence 2013 (France), and Europalia Indonesia in 2017 (Belgium).
Audio and sometimes video collaborations with 718, Agnès Gilson, Alok Leung, Aluviana, B6, Beat Freisen, Benjamin Bouffioux, Behrang Azhdari, Bex (Helaas, Overmars), Black Saturn, Bubbly Fish, Cairo Impro, Cédric Stevens (Acid Kirk), Chau Kin Wai (KWC), Choi Joonyong (Astronoise), Cindytalk, Cliquetpar, Contagious Orgasm, Dai Guo Li, Damo Suzuki Network (with D. Suzuki, Ripit, Scott Nyddeger, Eric Boros, Marylise Frecheville, Marc Chia), Đào Anh Khánh (Dao Anh Khanh), David Thrussell (Snog, Black lung), Ryu Hankil (Daytripper), Dickson Dee (Li Chin Sung), Effie Wu, Error (Aldis Oslozs), Elisabetta Lanfredini, Fabiana Striffler, Fadi Tabal (Under The Carpet), Gabriel Severin (Silk saw, The join between), Gangan Ensemble (Ignaz Schick, Erick Calilan, Laure Boer, Christian Dale Bazar, Burn Belacho, Cedrik Fermont), Goh Lee Kwang, Gregory Durez, Ha Jane, Hannah Kim (김해나), Hervé Thomas (Hint, Fragile), Hui-Chun Lin, Hùng Nguyễn Mạnh (Hung Nguyen Manh), Iason (P.S. Stamps Back), Itta (10, Tengger), Jack Adler-McKean, Jacob Hardy (Holzkopf) & John Brennan, Jawad Nawfal (Munma), John Sellekaers (Xingu Hill, Ambre, Dead Hollywood stars, etc.), Julian Bonequi (Audition Records), Junky (Torturing Nurse), Khamsuane Vongthomkhan Ko Doo, Kueiju Lin, Lau Mun Leng, Le diktat, Lee Han Joo, Li Huihui (Arrebato), Lin Chi Wei (ZSLO), Lukas Ligeti, Luo Chao Yun, Lương Huệ Trin, Marc Chia/Tara Transitory (One Man Nation, Elekore), Manuel G. Richter (Xabec), Marc Medea (Silk saw, Jardin d'usure, Moonsanto, etc.), Maria Kassab, Marie Takahashi, Mark Spybey (Dead voices on air, Download, Zoviet france, etc.), Mathis Mootz (Panacea, M²), Max Loeb, Mazen El Sayed (El Rass), MHP, Mick Harris (Scorn, Lull, Napalm Death), Mimetic, Mindfuckingboy (Elekore, Chöd), Mirella Salamé, Nakamura Yuji, Nabil Saliba (Trash Inc), Naofumi Ishimaru (Yximalloo), Nguyễn Van Cuong, Olga Vosova (Astma), Olivier Moreau (Imminent, Urawa), Osman Arabi (20.SV), Pei, Planet Aldol, Riotmiloo, Ripit, Roberta Maddalena, Robertina Šebjanič, Satō Yukie, Scott Sainclair (Company Fuck), Sanja Kuvelić, Seal Phüric, Seventeen Migs of Spring & Stephan Friedman (Silence & strength, Antiochus, etc.), Stephane Rives (The Imaginary Soundscapes), Stereowarfare, Utku Tavil, Transport Orchestra, Tri Minh, Wu Quan, Xavier Depienne, Yan Jun, Yang Licai, Zen Lu.
Music for theatre, films, etc. : GDMDC in China, Ðào Anh Khánh Studio in Vietnam...) and more (full list to appear one day)
Some more details : I studied orchestral drums, theater, declamation and singing from 1985-1986, started my first industrial and noise project in 1989 : Crno Klank, the duo Axiome was born in 1990 or 1991 and is the oldest active band I still play with. I studied electroacoustic and acousmatic music at the conservatory of Mons, Belgium in 1995-1996. I studied many other things I rarely completed for various reasons (contemporary art, silkscreen...). My music has been published on various labels such as : Syrphe, Ant-Zen, Ad Noiseam, Hushush, Independenza Records, Puzzling Rec., Textolux, Klanggalerie, Old Europa Cafe, Entity Records, Shanshui, Deaf Blind Dumb School, Audiotrauma, Invasion Wreck Chords, Vacuum, Hymen Records, Mad Monkey Records, Mirex, Flyco, Gun Music, Sépulkrales Katakombes, Falling Elevators, Sub Rosa...
Salims Salon, prepiere at Alte Oper, Frankfurt, Germany, 29 September 2017
Salims Salon [Teaser] from Hannes Seidl on Vimeo.
C-drík live at Kill The Silence Hong Kong Station, Hong Kong. 27.04.2014
Xabec and Kirdec live at Nova Alternativa, K4 Klub, Prague 20.06.2011
C-drík live at Harsh Noise Conference, Berlin, Germany. 15.10.2011
C-drík and Aluviana live at Menza, Ljubljana, Slovenia. 01.05.2008